Hi everyone, here are the « sort of minutes » from our 2nd "open to all who want to talk/share/learn about Contact Improvisation" meeting which took place on Tuesday the 2nd of May at the Tea Garden.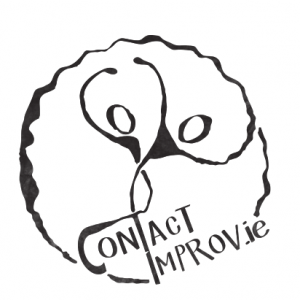 Present: Sarah, Jacob, Cian, Yaeli, Julien, Yesim.
1) Minutes from last meeting – 06/03/17

Video: Patrick to shoot video: special day for videoing a jam -> 22nd of May / show case / interview / ??? (just here is the actual result – thanks Patrick!)
Involvement: Having member of the community taking care of one month (organising Jams, finding leaders, creating FB event, etc.) worked so far very well. let's keep it up for the summer.
CI logo: We have one! Yay!
Source book: It hasn't happened yet.
Website: We have one! Yay Yay! – www.contactimprov.ie
2) Video & Media:
Youtube channel? Instagram? -> Yesim (is excited)
#contactimprov -> to spread the word about contact improv ireland?
Can we rename the FB page? to check out (it is actually possible and Yaeli took care of it!)
Why "mediatizing"? Does it go against the CI value or can it walk hand in hand with it? What's the aim? To make it more accesible to people. For gebinners: seeing a visual picture is different. Gives ideas of what they are getting into. Community as "inviting" as possible". Build curiosity.
3) Andrew Harwood workshop:
We need a projector – bright space hence a good one. FB post to ask around.
Spread the word: Like and share competition. So far only 8 people registered. We need a minimum of 20 people. Use other platforms to spread the word (eventbrite/dance groups/twitter/meetup). Posters. Invite more people via FB event.
Jam during Andrew's workshop : Cian's music. How to make a jam a "party"? Managing the space. Hold the space. Facilitators. Who? Balloons. Face painting? Lights?
4) Socialising aspect: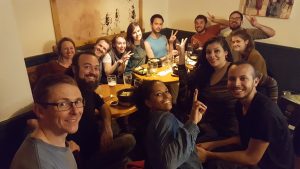 22nd of May after the jam. Boojum? Kimchi? Jimmy Chong? To decide… (Ended up to be in Kimchi on Parnell street. Great turnout!)
5) Improvised music at jams:
Paid musician? Inviting improv musicians. To add into jam descriptions. Having a rehearsal (Cian). Michael (Yesim's friend), to link with Cian.
6) Other festivals:
Jacob: Reincarnation – 25th to 27th of August.
Julien: CI festival in Slovenia – Fico dance journey.
7) Request for the bi-weekly CI classes at the Lab:
Itay's lifts / flying / falling / rolling / different dances and different experiences / feeling like our first dance, where am I? / solo thing / point of focus / fluidity and intuition / starting and finishing / advanced lifty things / breaking the habit / where can I meet you? / listening to our partnair's dance / where am I in my head? / am I in my body? / you learn a lot from reading another person and entering their world.