Reídhe – An introduction to Contact Improvisation

Dear all,
Shakti, Sarah-Jane, Patrick, Vincent and Julien are very happy to invite you to "Reídhe – an introduction to Contact Improvisation". This weekend long workshop will take place on the beautiful grounds of Earthwise Yoga from the 11th until the 13th of August 2017.
Reídhe means "gentleness" in Irish. It is therefore through a gentle approach that the teachers will share their love of Contact Improvisation with you.
You may wonder: "But what is Contact Improvisation?"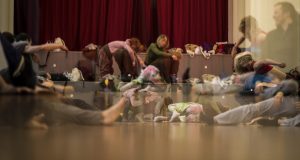 One thing that is certain about Contact Improvisation (CI) is that it does not have one set definition. Since its introduction by Steve Paxton in the 70s it has been danced, studied and taught throughout the world by people with different cultural and art backgrounds (contemporary dance, martial arts, theatre, yoga, etc.). This is what actually makes CI so unique and beautiful because the true definition of this dance form comes from within each and one of us. So to help you get a better grasp of CI, and until you've come dance with us and made your own opinion of it, here are few quotes by Contact Improvisation teachers.
"The simple pleasure of moving and living through one's body is what I think matters most here. And the pleasure of dancing with someone in a spontaneous, unplanned way, free to create without disturbing one's partner. It's an extremely inspiring form of dance." – Steve Paxton
"If you could do Aikido, surf, wrestle and dance and the same time, you would have an idea of what Contact Improvisation feels like" – Ernie Adams
"Contact Improvisation is an open-ended exploration of the kinesthetic possibilities of bodies moving through contact. Sometimes wild and athletic, sometimes quiet and meditative, it is a form open to all bodies and enquiring minds." – Ray Chung
And here is a beautifully made video to drench your thirst of knowledge:
Who is this weekend for?
This weekend workshop is mostly aimed at beginners or new-comers to the art of Contact Improvisation. Of course more experienced dancers are also welcome but this we will mostly focus on introducing the basics of CI that anyone can then use in their own dance (and life) practice. Each teacher will bring their own personal touch and definition of CI to you through their own way of teaching. So all you really need is to bring an open mind and your smile 🙂
Also, keep in mind that in Contact Improvisation you will never be forced to do anything. On the opposite, we know how important it is to take care of oneself, both physically and emotionally (hence the gentle approach we want to focus on). So as much as we would like you to take part in all workshops/activities, if you feel you need some space for yourself, feel free to take a pause and come back whenever you feel rested.
Cost: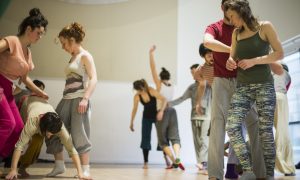 This is a free event and no one is making any profit. For this reason if you would like to make a donation (suggestion: 15/20 euros) you can do so via this website or directly on the weekend of the workshop in the donation box.
This would help us with the cost of the place (rent, organisation, cleaning, electricity, etc.). If we receive enough money before the event we will also be able to invite a cook so that every participant can fully focus on the workshop. If this is not possible it's ok, we will just ask for volunteers to take care of the cooking for each meal. If we still have money left it will help covering the transport cost of the teachers (a small token of thanks for sharing their experience with all of us). Finally if your generosity has been tremendous we'll give the remaining money to charity.
Food:
Please bring and share as much food as you want to! We would like to keep this weekend vegetarian so everyone can enjoy the delicious food that will be made. Also please do not bring alcohol. By making this event alcohol free we will all be able to enjoy this weekend in a safe and healthy environment. As regard to cooking, everyone will be responsible for making their own breakfast and as mentioned earlier on, we will either have a cook for the main meals or we will take turns cooking in little groups for everyone.
Couple of ideas:
Fresh vegetables and fruits, rice, pasta, beans, bread, nuts, juices, milk (dairy/non-dairy), teas, chocolate…this is a non-exhaustive list so feel free to be creative and generous. You will be hungry with all the dancing.
Accomodation:
Please bring a tent/mat/sleeping bag. You will be able to set it up in the lovely meadow that belongs to the grounds of Earthwise Yoga.
How to get there:
You can find all the info on the Earthwise Yoga website or contact Shakti for further help.
Schedule (subject to change):
Friday 11th:
6pm onwards:  arrival, set up of tents, dinner- please make/bring your our own food for this first dinner.

8pm – Opening circle, introduction to the weekend and CI performance by the teachers.
Saturday 12th:
7:30am – Personal meditation practice.
8am – Asanas practice led by Shakti.
9am – Breakfast.
10am – Morning workshop led by Julien.
12:30/1pm – Lunch/break.
2:30pm – Afternoon workshop led by Patrick.
5/5:30pm – Break/dinner.
7:30pm – Warm up leading to a Jam.
Sunday 13th:
7:30am – Personal meditation practice.
8am – Asanas practice led by Shakti.
9am – Breakfast.
10am – Morning workshop led by Vincent.
12:30/1pm – Lunch/break.
2:30pm – Afternoon workshop led by Sarah Jane.
5/5:30pm – Jam.
6pm Closing circle and goodbyes.
Registration: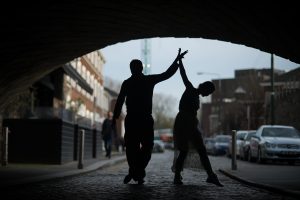 If you have been invited this mean someone special thinks you would really enjoy this workshop. So feel free to do the same. Invite someone who you believe would like to be part of this weekend as well.
To confirm your registration all you have to do is click on the "Participate" button on the facebook event page. You can also make a donation via this website or at any stage during the weekend. If you have invited someone who wants to take part and does not have Facebook make sure you add their name on the facebook event page.
Once this is done we will add your name to the list of participant. We will only be able to accommodate 20 people therefore we will stop the registration process once this number has been reached. However please, we rely on your trust and honesty so only register if you really make the commitment to come. And if you really are not able to make it don't wait till the last second to let us know as there will surely be someone else happy to come to the event.
Extras:
Bring your music instruments! We would love to have live music for the Jam on Saturday. And you know how music brightens everyone's day!
If anyone knows a cook who would like to be part of this adventure please let us know.
And if there is anything else you would like to share with all the beautiful souls that will be there over the weekend, make sure you do so!
We are all very much looking forward to meet, share and dance with you. Thank you!
Shakti, Sarah-Jane, Vincent, Patrick and Julien